Container capacity from Asia to South America has steadily increased over the years.
From Asia to the East Coast of South America (ECSA), weekly allocated TEUs rose 30% between the February reporting periods in 2017 and 2021 as Brazil, South America's largest economy, was rebounding from its recession in 2015/16.
Weekly allocated TEUs also managed to rise 17% on the Asia to West Coast of South America (WCSA) trade over the same time period, as illustrated in the chart below, which was built using data from BlueWater Reporting's Capacity Report.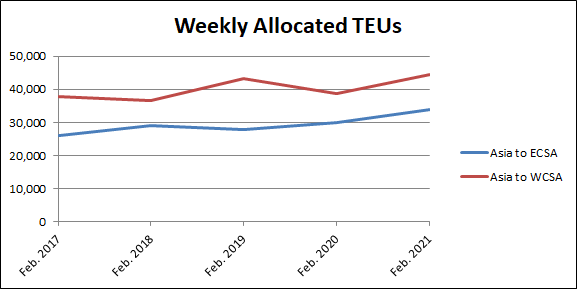 Currently, Maersk holds the largest market share on both trades by a long shot.
From Asia to ECSA, Maersk has a 24% share on the trade in terms of weekly allocated TEUs, followed by COSCO with a 17% share, according to data gathered using BlueWater Reporting's Carrier/Trade Route Deployment Report.
Meanwhile, from Asia to WCSA, Maersk holds a 21% share, while ONE, CMA CGM and COSCO follow, with each having a 14% share.
Despite Maersk holding the largest share from Asia to ECSA, in terms of actual container services, the AS2/Ipanema – jointly operated by MSC, Hapag-Lloyd and ONE – allocates the most capacity each week from Asia to ECSA at 10,172 TEUs, according to BlueWater Reporting's Capacity Report. Maersk's AC2/AC3 dominates the Asia to WCSA trade though, where it allocates 9,457 TEUs per week.
In terms of liner shipping transit times (excluding transshipment), BlueWater Reporting's Region to Region Transit Analysis by Service tool shows the quickest transits from Asia to ECSA are from Singapore to Rio de Janeiro aboard the ESA/SEAS, which is jointly operated by COSCO, Evergreen Line, CMA CGM and Yang Ming. From Asia to WCSA, the fastest transits are from Busan to Buenaventura at 21 days on CMA CGM's ACSA1.
Source: Hailey Desormeaux, Bluewater
Follow on Twitter:
Tweets by "BWReporting"