Spot container rates on the Asia to North Europe trade have been continuing to increase, even as carriers have been gradually injecting more capacity onto the lane.
The Freightos Baltic Index (FBX) shows an overall increase in spot container rates on the trade throughout the last few months. At the end of August, the FBX shows spot rates from China/East Asia to North Europe totaled $1,705 per FEU, while by the end of September, spot rates on the trade stood at $2,205 per FEU. There was a slight decline in October, with spot rates totaling $2,119 per FEU at the end of the month.
However, since then, the FBX shows spot rates on the trade have been steadily increasing, with the latest reading on Nov. 20 clocking in at $2,493 per FEU, the highest the trade has seen all year and a 68% increase from the prior year period.
Drewry's World Container Index (WCI) is also indicating strong spot container rates on the trade, with rates from Shanghai to Rotterdam totaling $2,835 per FEU as of the latest reading on Nov. 19, up 15% week-over-week and up 81% year-over-year.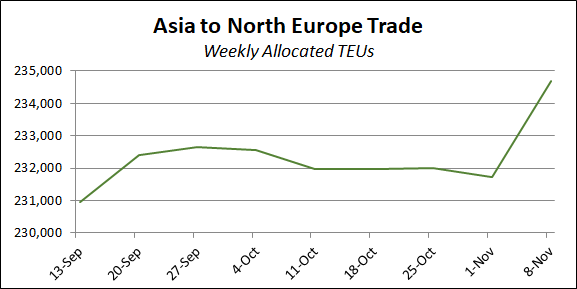 Based off BlueWater Reporting's Capacity Report, the estimated weekly allocated capacity from Asia to North Europe has slightly risen over the last two months, as illustrated in the chart above. Weekly allocated capacity on the trade totaled 230,963 TEUs as of the week of Sept. 13 and steadily rose the rest of the month. In October, capacity dipped back down closer to the previous figures seen in September, likely due to the effects from Golden Week in China. The capacity rose again to the highest point in the past two months on the week of Nov. 8 to 234,691 TEUs.
This is a slight rise in capacity, but not very significant, given the size of the Asia-North Europe trade lane. As the increased spot rates suggest, demand on the trade lane is rising, so it is expected that the capacity could potentially rise even more in order to match the demand.
Source: Bluewater Reporting
Follow on Twitter:
[tfws username="BWReporting" height="700″ width="350″ theme="light" color="#FAB81E" tweets="2″ header="yes" footer="yes" borders="yes" scrollbar="yes" background="yes"]