Container carriers are slated to cancel sailings on several major services that call North Europe, largely as a result of congestion, while ports and terminals in the region are taking measures to ease supply chain bottlenecks.
The 2M Alliance for instance has announced several missed sailings from Asia to North Europe and/or the Mediterranean in February, and not only due to congestion in just North Europe. Maersk said the aim is "to free up services for schedule recovery measures to respond to the recent, unprecedented market situation with severe port congestion and equipment limitations across global supply chains."
Meanwhile, Hapag-Lloyd revealed this week that THE Alliance's AL2 service between North Europe and North America would slide all vessels by one week as a schedule recovery measure due to weather delays and port congestion in Europe. This is resulting in no sailing from North Europe on week 6.
Hapag-Lloyd also announced this week that it was increasing the congestion surcharge from North America (including Mexico) to ports in the United Kingdom. Hapag-Lloyd said the increase was "due to the ongoing congestion situation at the ports in the United Kingdom caused by continuing high levels of import arrivals in conjunction with infrastructure constraints."
While carriers are taking measures to get schedules back on track, ports and terminal operators are also finding ways to ease supply chain issues.
A spokesperson for HHLA, which operates three container terminals at the Port of Hamburg, told BlueWater Reporting this week that it has taken several steps to mitigate delays at these terminals, including "strict inflow control of export cargo for notified ships calls, additional storage space for containers, and additional use of resources (for example in rail handling)."
"In this way, we ensure that handling activities for all modes of transport (ship, rail, truck) continue to run as smoothly as possible even under these challenging conditions," the spokesperson explained.
"The challenge at our container terminals in the Port of Hamburg, but also in the entire North Range, is currently the persistent ship delays of one week and more on average," according to the spokesperson. "This means that the dwell time of export containers is increasing significantly."
On a bright note, the spokesperson did mention how there were no containerships awaiting berth space at its container terminals in Hamburg.
Over at the Port of Felixstowe, the port's latest operational update from Sunday said, "The Port of Felixstowe, like other major container ports worldwide, is still experiencing high container volumes and dealing with the consequences of the ongoing Covid pandemic. The current high volumes are expected to last well into Q1."
The port said it is increasing resources, including 140 new employees, 104 of which are additional equipment drivers and 12 of which are engineers.
Additionally, the port said that each shipping line has an agreed empty storage capacity. "The receipt of empty containers is managed on a line-by-line basis. If a line exceeds its empty storage capacity, receipt of empty containers for that line are temporarily suspended until sufficient empties are removed," the port said. "Empty containers are currently being received for all customers."
Commenting on the latest metrics, the port said 95% of import containers are available for collection within 10 minutes of discharge from the vessel, and that in the week to Feb. 7, the average turnaround times for haulers was 41.82 minutes at Trinity Terminal and 34.60 minutes at berths 8 and 9.
BlueWater Reporting's database shows the ports of Hamburg and Felixstowe are called by 36 and 14 container services, respectively, that sail beyond North Europe, in addition to container services that strictly call Northern European ports. North Europe's largest seaport, the Port of Rotterdam, is called by 49 container services that sail beyond North Europe, compared to the Port of Antwerp at 54 and the Port of Bremerhaven at 19. The largest vessels calling each of these ports exceed 23,000 TEUs, meaning they need to be extra cautious in taking measures to mitigate congestion, being that larger vessels unloading more cargo at once can cause bottlenecks at the port and into the hinterland.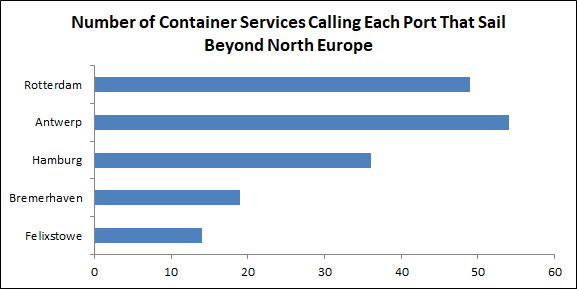 Source: Hailey Desormeaux, Bluewater
Follow on Twitter:
[tfws username="BWReporting" height="700″ width="350″ theme="light" color="#FAB81E" tweets="2″ header="yes" footer="yes" borders="yes" scrollbar="yes" background="yes"]