(Source: Container xchange) Shanghai port activity has recovered to pre-COVID levels. In this blog, we will be comparing Shanghai port data from last year with year-to-date data.

If you are a shipper or carrier, chances are you have transported a shipment to the port of Shanghai. As the busiest seaport in the world, the port of Shanghai handles more than 40 million TEUs of container volume.
Based on data provided by Portcast we will be looking at the number of vessels in the Shanghai port and the average port stay duration on a monthly basis. More specifically, we will do a year on year comparison to find the impact of Covid-19 and past trends that are likely to be repeated again in the future. Whether you are a shipper or shipping line, you can use this data to better forecast and plan your shipping activity in Shanghai port.
Shanghai Port Activity Has Recovered To Pre-COVID Levels
Container volumes have typically dropped during the Chinese New Year holiday as factories are closed and demand for imports drop. This trend was exacerbated by the Covid-19 pandemic, which brought global shipping to a standstill.
The impact of the pandemic was mostly seen in February 2020 for China, as the number of vessels in the port dropped to 1361 vessels. This can be attributed to the nationwide lockdown that was imposed by the Chinese government to stem the spread of the virus.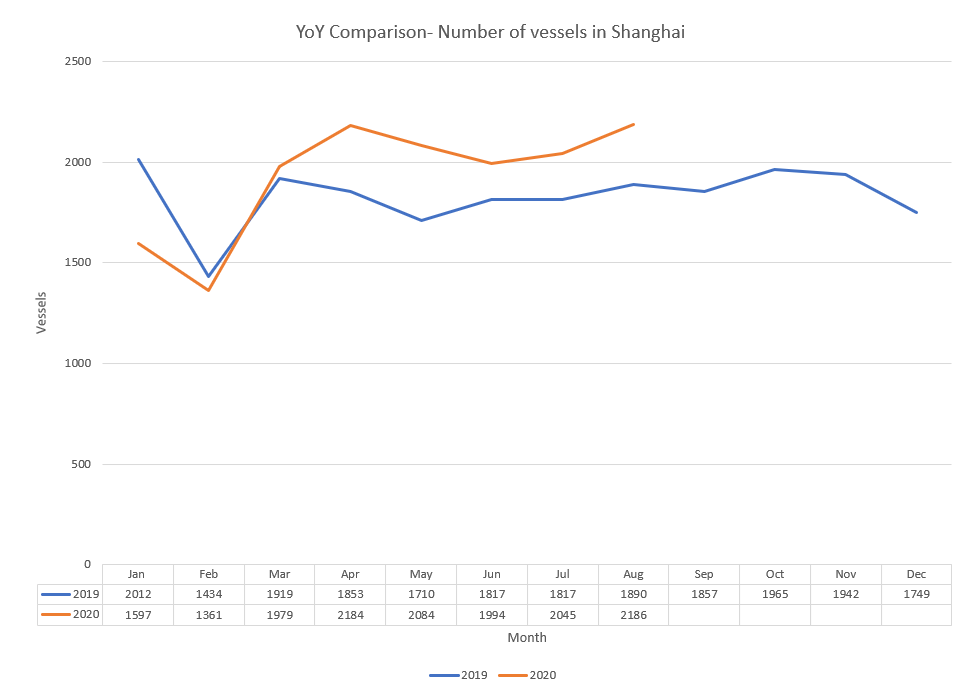 The number of vessels for January and February this year were lower when compared to the same period last year. In contrast, the figure is higher for the period of March to August this year as compared to last year.
This suggests that the number of vessels in January and February this year should have been higher due to the trend of port activity increasing each year. However, the pandemic has led to this drastic drop.
Intensive food testing led to longer customs clearance in June
In June, Beijing experienced a second outbreak of Covid-19 which led to a partial lockdown. The second wave was attributed to imported salmon, as traces of the COVID-19 were found in these imports.
A mass sampling of food products was taken by the Chinese customs which slowed customs clearance. This was seen in the surge of port stay duration for the Shanghai port in June as compared to May. The average port stay duration increased from 21 hours to 29 hours.
Compared to last year, average port congestion levels have been lower from January to August this year except for the month of June. This suggests improved efficiency in container handling and customs clearance as the number of vessels in the port has increased from last year as mentioned earlier.
The spike in port congestion in October last year was likely due to the golden week holiday in China that led to vessels staying in the port longer. Port stay for October this year is expected to increase as well before returning to normal levels.
Shanghai port continues to face external disruptions
Based on the Chinese Caixin manufacturing PMI, the Chinese manufacturing industry has seen a strong rebound since February 2020. Export sales have been rising for the first time since last year and buying activity has been increasing as well.
According to the forecast by tradingeconomics, manufacturing PMI is expected to remain steady for the rest of this year. A slight decrease in PMI is expected over the next two years. Based on this information, we can infer that shipping activity in the Shanghai port is expected to remain constant. Or experience a slight dip in the long-term.
While Shanghai port activity has stabilized in the near term, it is still susceptible to a few disruptions. Such as the impact of the upcoming golden week at the beginning of October.
Trade tariffs imposed due to the US-China trade war has shown to impact shipping activity, with shippers expediting shipments to avoid the tariffs. With the US-China trade war still in progress, this remains a possible source of disruption. For example, tariffs imposed on US goods from China may lead to expedited shipments to China and a spike in freight rates. These external disruptions can be mitigated with predictive visibility.
Predictive Visibility – From "nice to have" to the necessity
This year has demonstrated the need for supply chains to be digitalized, with multiple external disruptions to the shipping industry such as the Covid-19 pandemic. Building a responsive and resilient supply chain has become even more of competitive advantage companies have over their competitors.
Previously seen as merely a nice feature to have, predictive visibility has proven its value in achieving On-Time-In-Full (OTIF) shipments. By combining real-time data (such as data shared previously) with machine learning technology, we can accurately predict when shipments will arrive and any risk of delays. Companies that implement predictive visibility have access to shipping forecasts and real-time notifications of shipment delay risks.
While black swan events such as the Covid-19 pandemic cannot be predicted, predictive visibility software alerts companies to risk delays in real-time for faster mitigation
We are at an inflexion point of technology adoption in supply chains, with most companies expected to integrate predictive analytics in their operations over the next 5 years.
Follow on Twitter:
[tfws username="ConXchange" height="700″ width="350″ theme="light" color="#FAB81E" tweets="2″ header="yes" footer="yes" borders="yes" scrollbar="yes" background="yes"]