Ocean carriers OOCL and ANL hold a strong lead on the Asia to Oceania trade in terms of allocated container capacity.
BlueWater Reporting's Carrier/Trade Route Deployment Report shows that OOCL allocates 18,634 TEUs per week towards the trade, followed by ANL at 16,067 TEUs. BlueWater Reporting defines weekly allocated TEU capacity as the amount of deployed capacity it estimates are actually set aside (or allocated) for the trade each week.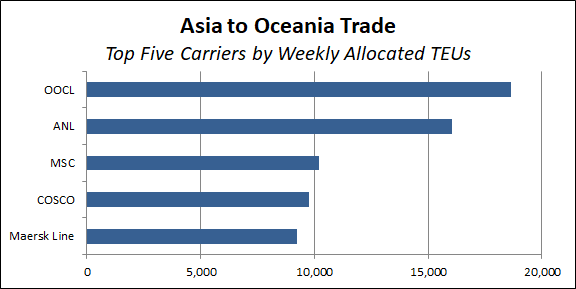 Broken down by container services, the AAXANL/AU1, which has ANL as the dominant vessel operator, allocates the most capacity towards the Asia to Oceania trade each week at 8,977 TEUs, according to data from BlueWater Reporting's Capacity Report. It is followed closely by OOCL and ANL's jointly operated A3C at 8,508 TEUs.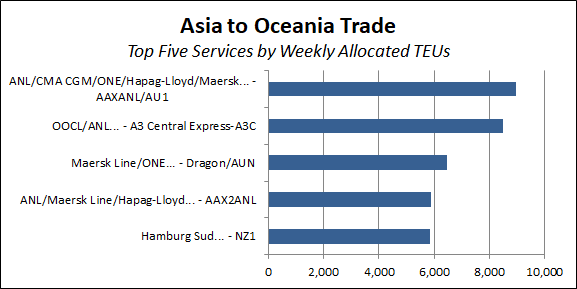 The trade in general has seen weekly allocated capacity substantially increase in recent years, particularly each year since 2018, according to BlueWater Reporting's Capacity Report. Between April 2018 and April 2021, weekly allocated capacity on the trade increased from 82,909 TEUs to 107,325 TEUs.
Overall 32 container services allocate space from Asia to Oceania with a total of 21 ocean carriers supplying vessels.
Source: Hailey Desormeaux, BlueWater Reporting
Follow on Twitter:
[tfws username="BWReporting" height="700″ width="350″ theme="light" color="#FAB81E" tweets="2″ header="yes" footer="yes" borders="yes" scrollbar="yes" background="yes"]