The Port of Charleston's Hugh K. Leatherman Terminal is expected to receive its first vessel this Friday, with multiple services making the shift to the new container terminal this month.
The South Carolina Ports Authority provided the estimated time of arrivals for the first vessel of each service that will be calling the Leatherman Terminal in a tweet last Friday.
The Yorktown Express, which serves on THE Alliance's AL3, is expected to be the first vessel to call the terminal when it arrives this Friday. The EC2 will make its first call to the terminal on April 20 with the Antwerpen Express, followed by the SAX on April 21 with the OOCL Brussels, and the Columbus on April 27 with the CMA CGM Andromeda, according to the tweet.
Schedules for all of these services except for the OCEAN Alliance's Columbus JAX-CJX have been updated to show the upcoming shifts to the new terminal as of the time of writing Thursday.
Data from BlueWater Reporting's Service Dashboard tool shows the average vessel size of each of these four services, with the OCEAN Alliance's SAX/ECX1 coming in first at 13,267 TEUs. THE Alliance's AL3 serves the North Europe-North America trade, while the other three services all operate between Asia and North America.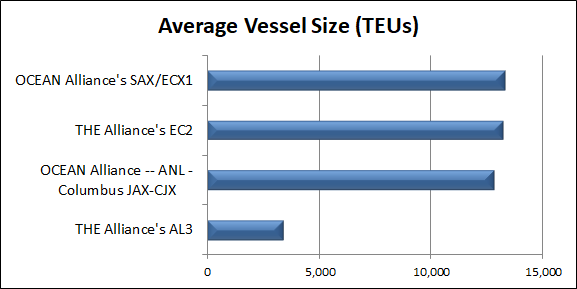 The Leatherman Terminal is the first container terminal to open in the U.S. since 2009, according to the South Carolina Ports Authority. Phase One, which adds 700,000 TEUs of annual throughput capacity to the Port of Charleston, features a 1,400-foot wharf, five ship-to-shore cranes, a 47-acre container yard and 25 hybrid rubber tired gantry cranes. The five ship-to-shore cranes have 169 feet of lift height above the wharf deck and an outreach of 228 feet, enabling them to work the biggest containerships calling the East Coast.
The Port of Charleston is further maximizing its potential between the new container terminal and the Charleston Harbor Deepening Project being on track to achieve a 52-foot depth in 2021, yielding the deepest harbor on the East Coast.
This expansion is spurring companies to further invest in their operations around Charleston. Lineage Logistics for instance recently expanded its facility in North Charleston from 190,345 square feet to 316,357 square feet, thus providing more cold storage capacity for importers and exporters, the South Carolina Ports Authority announced in late March.
Additionally, The Keith Corporation is building a 1 million-square-foot cross-dock industrial building in nearby Summerville, S.C., about 30 miles from the port. The speculative industrial facility in the Charleston Trade Center is expected to open in the fourth quarter, the port authority said back in February.
"We feel like the timing is excellent for a speculative project of this size in Charleston, given the expansion and competitive attributes of SC Ports' facilities," said Alan Lewis, Managing Partner of The Keith Corporation's Industrial Development. "The Charleston market remains an incredibly attractive place to do business, and our new speculative building will provide industrial tenants access to both the Port of Charleston and the booming Southeast market."
Commenting on the current status of the port, a South Carolina Ports Authority spokesperson told BlueWater Reporting Thursday, "SC Ports has not had vessels waiting for berths or congestion on terminals. We had our biggest March in port history, which included a 50% year-over-year jump in loaded imports."