Demand on the Asia to U.S. West Coast trade is showing no sign of letting up at a time when shippers are now having to worry about renegotiating their annual contracts.
Spot rates from Asia to the U.S. West Coast continue to climb, with Drewry's World Container Index showing a reading of $4,348 per FEU from Shanghai to Los Angeles as of Thursday, up 3% from a week ago and up 182% year-over-year.
Commenting on both transpacific spot and contract rates, Simon Heaney, Senior Manager of Container Research at Drewry, told BlueWater Reporting Thursday, "The gap between spot and contract prices will undoubtedly narrow by the time the eastbound transpacific annual contracts are signed in April/May, with contract rates expected to increase substantially, between 20-30%. We think many shippers will want contracts that provide for more reliable and flexible access to capacity than the previous arrangements allowed."
Heaney also said, "We think that spot rates have peaked, but will continue to remain very high until the equipment availability and port congestion situation improves."
Lars Jensen, CEO of SeaIntelligence Consulting said today, "According to the CCFI contract rate index, the current contract level to the USWC is back to levels last seen in 2005. The upwards push on the rates is clearly prompted by the severe operational bottleneck causing shippers to find themselves stuck between a rock and a hard place: Either ship on extremely high spot rates, or accept high contract increases but then have more of an assurance of space and equipment."
Consumer goods spending in the U.S. continues to remain robust, and consequently, port congestion still remains a huge issue, particularly in the San Pedro Bay area.
Gene Seroka, Executive Director at the Port of Los Angeles, said during a media briefing Wednesday, "About 15% of vessels that are currently on their way to Los Angeles are going direct to berth. Of the 85% of ships going to anchor, the average wait time has been climbing. When ships first started backing up in November, anchorage time was about two and a half days. In February thus far, anchorage is now tracking at 8 days."
Container dwell time on terminals at the Port of Los Angeles remains at about 5 days, which is double what it was before the import surge started this summer, while street dwell time waiting for warehouse space currently stands at about 7.6 days for a traditional 40-foot container, Seroka explained.
Looking ahead, Seroka said, "The data forecasting tools that we use and the industry contacts that we regularly speak with are showing that the flow of cargo will continue strong into the second quarter of this year."
Data from BlueWater Reporting's Capacity Report even shows how weekly deployed TEU capacity on the Asia to U.S. West Coast trade at the end of this January was substantially higher compared to the same period for the prior five years, as illustrated in the chart below.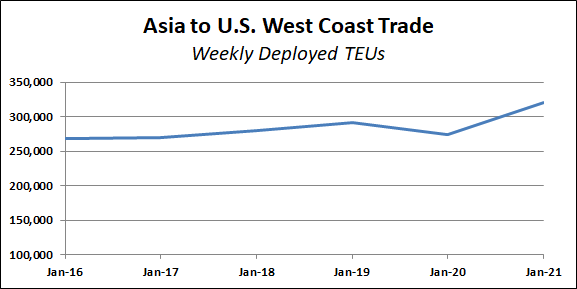 This increase is largely due to a sharp rise in average container vessel size, as well as a rise in the actual number of container vessels deployed on the trade.
At the close of this January, average vessel size on the Asia to the U.S. West Coast trade totaled 9,607 TEUs, up from an average vessel size of 8,315 TEUs at the end of last January, BlueWater Reporting's Capacity Report shows.
Source: Hailey Desormeaux, Bluewater
Follow on Twitter:
[tfws username="BWReporting" height="700″ width="350″ theme="light" color="#FAB81E" tweets="2″ header="yes" footer="yes" borders="yes" scrollbar="yes" background="yes"]